Recovering Lost Wages from Being Out of Work Due to Injury
Recovering Lost Wages from Being Out of Work Due to Injury – Inland Empire California
California workers compensation law provides different remedies for wage loss due to an injury that other types of personal injury claims that arise off the job due to another person or entity's negligence. In many situations, California workers compensation law does not provide the type of wage loss remedies that many expect it should to make the injured worker whole. While the remedies for wage loss are not nearly as significant as what many expect, they are limited because of the no fault nature of the workers compensation system in California. All workers injured on the job can claim wage replacement benefits under California workers compensation law regardless of fault. The limitation on the wage replacement benefits under California workers comp is a compromise so that all workers can obtain benefits.
Recovering Temporary Disability Benefits As Lost Wage Replacement
California workers' compensation law provides that the work comp insurance company provide wage replacement benefits for time missed from work due to a work related injury. This temporary wage replacement benefit is known as temporary disability. Temporary disability is to provide financial support to the worker while they heal from a work accident injury. This benefit is calculated by taking the gross average weekly earnings of the injured employee and multiplying that figure by 2/3. For injuries occurring after January 1, 2014, the maximum rate is $1,074.64 per week, for a maximum period of 2 years. For on the job injuries occurring prior to 2014, the maximum weekly rate is slightly lower because each year the figure is adjusted upwards to take into account cost of living and inflation.
Recovering Permanent Disability Benefits As Lost Future Earnings
In California, workers compensation law requires that the workers compensation insurance carrier provide a benefit for lost future earnings capacity due to a work related injury. Where the injured worker has reached maximum medical improvement but has not fully recovered from an injury, one would say that the injured worker has suffered a permanent impairment or disability under California workers compensation law. In such situations, the injured worker has lost some ability to compete in the open labor market due to the permanent impairment. When this happens, the California workers compensation laws provides for an award of permanent disability money to the injured employee. The amount awarded is based upon medical guides as well as other factors prescribed by law. At the beginning of case, it is hard to tell just how much permanent disability will be awarded because no one knows how recovery will go or how a medical doctor will exactly rate an impairment. An experienced workers compensation lawyer, however, will be able to estimate the probabilities of certain impairment ratings early on in a case based upon their knowledge of the law, medical guides and past experience.
Get A Work Comp Lawyer For Max Benefits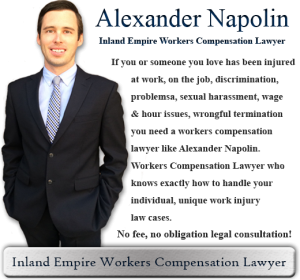 The insurance company does not care about you or your claim. Their sole goal is to pay you as little money as possible in the form of temporary and permanent disability benefits. They have lawyers working for them around the clock fighting almost every claim that comes across their desk. If you are injured at work and are claiming workers compensation benefits, it is likely that you will not receive the maximum amount of benefits the law entitled you to. To discuss your situation with a lawyer, call California workers compensation lawyer Alexander Napolin. His office is located in the Inland Empire and he will provide you with a free and confidential legal consultation to help you decide how to pursue your work comp claim. Just call him at 909-962-8414 and he will come to the phone to discuss your case with you. Or, if you prefer, go to www.WorkersCompLawyerIE.com and submit a case evaluation form. Mr. Napolin will personally give you a call back within a few hours of your submission to provide you with work comp help. Do not hesitate to pick up the phone to speak with an experienced comp lawyer for free. And remember, there is no obligation at all to hire Mr. Napolin just because you call him. Call him today to discuss your rights!
Leave a Comment
You must be logged in to post a comment.