Inland Empire California Workers Compensation Lawyer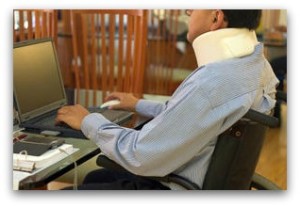 Regardless of occupation, injuries are extremely common in the workplace. In California, employers are required to carry workers compensation insurance for their employees that will cover them in the event a workplace accident happens. California workers compensation law provides benefits for two types (or mechanisms) of injury. One type is known as a specific mechanism of injury such as a slip and fall or automobile accident. The other type is known as a cumulative trauma mechanism of injury that results from repetitive work activities such as lifting heavy objects over a period of time leading to back sprain or typing on a keyboard every day causing carpel tunnel syndrome. When a worker suffers a specific injury in the Inland Empire or believe you are suffering from a cumulative trauma from repetitive work activities, the worker has the right to apply for benefits under your employers workers compensation insurance policy. Sadly, a significant number of work comp claims that have a legitimate basis are denied while others are not administered properly. When this occurs, the worker has the right to appeal the insurance company's decision regarding their benefits to the California Workers' Compensation Appeals Board.
Consult With A Workers Compensation Lawyer in Inland Empire California
There are many factors to consider before filing a workers compensation appeal with California. It is important to get the advice of an experienced attorney before making any decisions on what to do. If you need advice, you should call a workers' compensation lawyer like Alexander Napolin, who will provide you with a free legal consultation to educate you about your legal situation so that you can make the best decision possible. Not all injuries qualify for workers compensation benefits while others are potentially not worth pursuing when considering the entire situation. This is why it is important to gather as much information as possible and speak directly with a lawyer before you make your decision on what to do. If you have been hurt at work, someone like Napolin can help you through the difficult workers comp appeals process, starting with a free legal consultation and case evaluation when you call 1 (909) 962-8414.
Basic California Work Comp Benefits For Job Related Injury
California workers compensation law provides for the following basic benefits. The benefit structure is significantly different from other types of personal injury law. To learn more about how this affects the value of your case you need to call an experienced workers compensation attorney in the Inland Empire.
Medical Benefits: Medical care to cure and relieve the work related injury;
Temporary Disability Benefits: Temporary disability money to keep you financially viable while you are off work recovering (form of wage replacement);
Permanent Disability Benefits: Permanent disability money to compensate you for lost future earning capacity where full recovery is not possible (form of wage replacement);
Job Retraining Benefits: Job retraining money in the event that you cannot go back to your job duties due to a permanent limitation related to the accident; and
Lump sum payment options: Bundle the above four benefits into a one lump sum cash payout, as opposed to fragmenting the benefits and being paid over a period of time.
Hire A Lawyer To Fight For Max Recovery
Have an attorney to personally oversee your claim, not some paralegal or legal assistant like many other law firms in the area. Let him help you maximize your situation with his trusted advice and tested litigation methods. To schedule a completely free and confidential legal consultation, cases throughout the Inland Empire including Rancho Cucamonga, Fontana, Ontario, Rialto, Colton, San Bernardino, Upland, Chino, Highland, Redlands, and all surrounding cities in the IE.