Is Prescribed Treatment Required in California Workers' Compensation?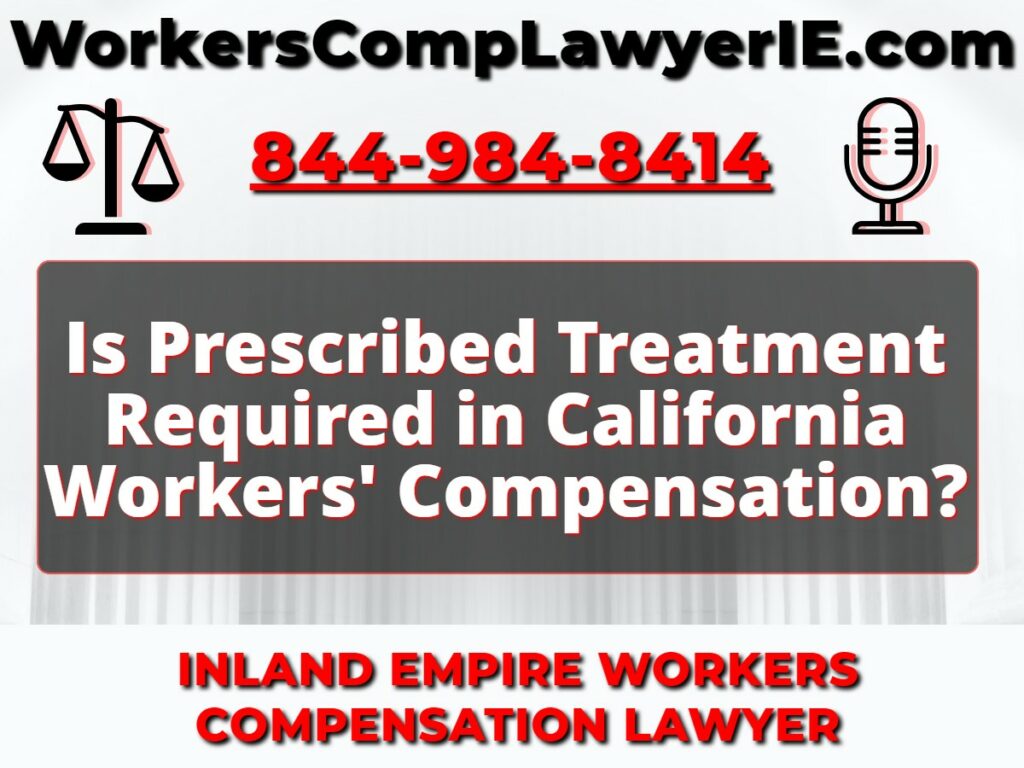 Introduction to "Is Prescribed Treatment Required in California Workers' Compensation?"
Every day, hard-working Californians sustain injuries on the job, ushering in a cascade of questions and concerns. Among the most pressing queries injured workers face is understanding the complexities of the California Workers' Compensation system. One key question that often surfaces is: Is prescribed treatment required in California workers' compensation cases?
Understanding Workers' Compensation in California
Before we delve into the specifics of prescribed treatment, it's important to understand workers' compensation in California. Workers' compensation is a state-mandated insurance program that provides benefits to workers who get injured or become ill as a direct result of their job. The program is designed to ensure that injured workers receive medical care, temporary and permanent disability benefits, and vocational rehabilitation if needed. Understanding the nuances of this system can be crucial in ensuring you get the compensation you deserve.
The Role of Prescribed Treatment in Workers' Compensation
Medical treatment plays a critical role in any workers' compensation case. The goal is not only to aid in the recovery of the worker but also to document the severity and scope of the injuries sustained. Prescribed treatment influences the outcome of a workers' compensation claim and sets the foundation for the benefits an injured worker can receive.
Is Prescribed Treatment Required for Workers' Compensation?
So, is prescribed treatment a requirement in California workers' compensation claims? The simple answer is yes. According to California law, in order to receive medical treatment through workers' compensation, it must be prescribed by a treating physician. This requirement ensures that treatment is medically necessary and appropriate, and serves to prevent fraudulent claims.
Benefits and Challenges of Following Prescribed Treatment
Following the prescribed treatment is not only beneficial but also vital for your workers' compensation claim. It aids in recovery, proves the validity of your claim, and ensures you comply with California law.
However, injured workers sometimes face challenges in adhering to their prescribed treatment. Costs, availability of specialists, transportation, and scheduling conflicts are common barriers. Yet, overcoming these obstacles is crucial for the success of your claim.
What Happens If Prescribed Treatment Is Not Followed?
Non-adherence to prescribed treatment can have serious consequences for your workers' compensation claim. In a real-world example, an injured worker in Sacramento saw his compensation benefits significantly reduced because he did not follow through with the physical therapy prescribed for his injured back. Non-adherence may lead adjusters or judges to believe that the injury is not as severe as claimed or that the worker is not committed to their recovery, impacting the compensation received.
Conclusion to "Is Prescribed Treatment Required in California Workers' Compensation?"
Understanding the role and importance of prescribed treatment in a California workers' compensation claim can be the difference between a smooth, successful claim process and a challenging one. Following prescribed treatment ensures your claim stands on solid legal ground, while also aiding in your recovery.
If you're an injured worker and feeling overwhelmed by the complexities of workers' compensation laws, remember: help is available. You can call us at (844) 984-8414 to secure a free consultation. Let our experienced team guide you through this process, ensuring you receive the compensation you deserve.