Workers Compensation First Treatment Medical Clinic Issues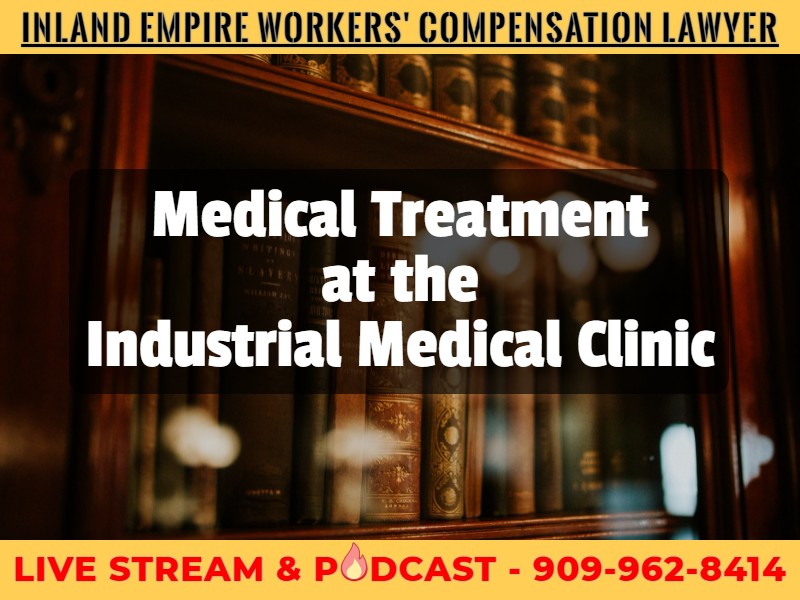 Sent For First Medical Treatment at the Industrial Medical Clinic (Probably Concentra) in 2022
Workers Compensation First Treatment Medical Clinic Issues – So you are hurt at work and your employer sends you to the industrial medical clinic. Either Concentra or another (likely overcrowded) medical clinic near your place of employment. The rule is that your first doctor is selected by your employer unless you predesignate a private doctor of your own! This blog article will help you better understand what constitutes a work injury and the issues you will face at your industrial medical visit.
What Qualifies as An Injury Under Workers' Compensation Law
When an injury occurs at work it usually falls under Workers' Compensation. A qualified injury entitles the hurt employee to apply for workers compensation benefits with their employers workers comp insurance carrier. An injury occurs at work when the mechanism of injury arises out of or in the course of employment.
Out of and in the Course of Employment Rule
Note that just because the injury happened while at work is not the appropriate factor in determining whether the injury is work related. Instead, the mechanism of injury (the cause of injury) must have arisen due to the employment or in the course of the employment. So, just because one has a heart attack while at work does not necessarily mean that they have an injury that will entitle the worker to workman's comp benefits for the heart attack. Therefore, the heart attack victim must show that a condition at work directly caused the heart attack. Check out this guide for the facts about workers compensation law.
Workers Compensation First Treatment Medical Clinic Issues
Those who report to their employer that they have been hurt at work should be given a claim form to fill out. The employer should transmit this claim form to their work comp carrier and send the employee to the nearest first treatment medical clinic for examination by a medical professional. Sadly, many end up in the industrial clinic with a moderate to severe injury only to be sent back to the job without proper medical care. This is all too common within the workers compensation system in California today.
---
True Story of Inadequate Treatment at the Industrial Medical Clinic.
Just last week I had a young man tell me that he had a piece of rusty metal lodged in his eye after a box fell off of a shelf in the storage room at his work. He reported the injury and was sent to the first treatment medical clinic. Once there, they put some drops in his eye and sent him back to work. Once back at work, he told his manager that he needed to go back to the clinic because things were not getting better with the eye, and his manager sent him back to the industrial clinic. Again, he was sent away with eye drops. The next day he went to his own doctor at Kaiser. The Kaiser doctor found a piece of rusty metal in his eye and had to surgically remove it. Fortunately, the man made a full recovery. But this is not always the case.
Many injured employees find themselves unable to get the treatment they need. This is where a lawyer can do a whole lot for the claim.
---
How An Inland Empire Workers Compensation Lawyer Can Help
A workers compensation lawyer can help a whole lot with workers compensation first treatment medical clinic issues. The workers compensation lawyer can usually find you a doctor to give you the proper type of care and appropriate amount of attention. If your injury is denied due to the industrial clinic finding no injury, the lawyer can appeal that determination to a court of law and help you find a doctor for treatment while the case is ongoing despite the insurance company refusing to pay. If the injury is admitted despite the improper treatment, the lawyer can help hold the insurance company accountable by making sure all procedures are following correctly.
Waiting Too Long Can Result In Lost Benefits
Whether you have an admitted or denied claim, an inland empire workers comp lawyer can do a whole lot to help maximize your benefits and compensation. However, waiting too long after an injury, especially when the first treatment clinic has not treated you with proper care, can have severe consequences on your comp case. So do not wait too long to get the help that you need and deserve, or at least some basic legal advice, from an experienced Rancho Cucamonga workers compensation lawyer. Remember, do not rely on online articles for help because every workers compensation case is unique.